Certified Pre-Owned Benefits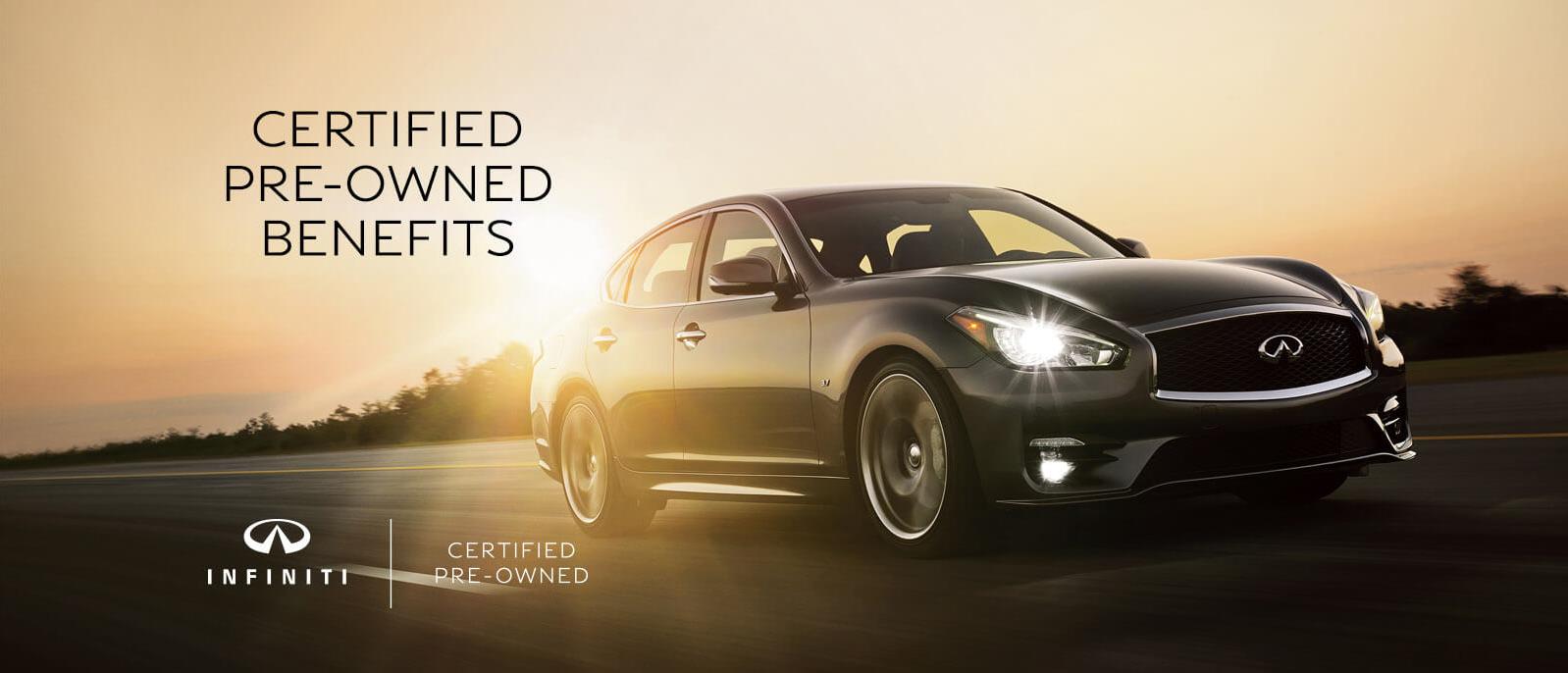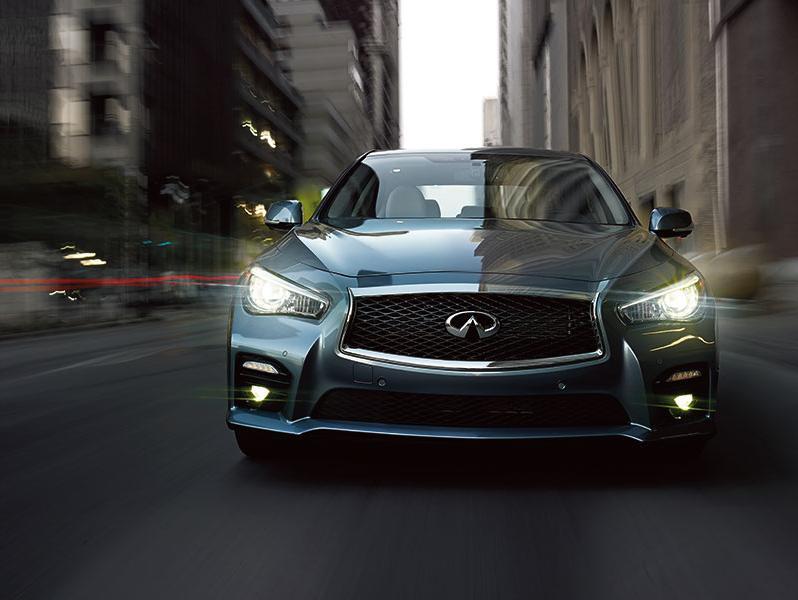 CERTIFIED PRE-OWNED BENEFITS
INFINITI PRE-OWNED | EXCLUSIVE MEMBERSHIP
INFINITI maintains exclusive requirements for certified pre-owned vehicles and we encourage the smart consumer to compare our criteria to other luxury manufacturers. In order to be eligible for certification, pre-owned INFINITI vehicles must meet the following criteria:
Less than 60 months from the original in-service date and under 60,000 miles.
Clean title history and CARFAX Vehicle History Report.
INFINITI TOTAL OWNERSHIP EXPERIENCE
Service and warranty repairs are available through over 200 INFINITI retailers nationwide. Each retailer is dedicated to delivering the INFINITI Total Ownership Experience, which is our philosophy and commitment to your satisfaction.
BENEFITS SUMMARY
THE BENEFITS INCLUDE:
Up to 6 years unlimited mileage warranty1
Complimentary First Year Basic Maintenance2
Comprehensive, 167-point Inspection
CARFAX® Vehicle History ReportTM
CARFAX® 3-year Buy Back Guarantee
Free 3-month Trial Subscription to SiriusXM Satellite Radio3
Emergency Roadside Assistance4
Complimentary Service Courtesy Vehicle5
Available INFINITI EliteTM Extended Protection Program6
INFINITI's CPO Program Enables an Exceptional Pre-Owned Ownership Experience
Although it may seem too good to be true, finding a "like-new" used vehicle is a real option for automotive shoppers in this day and age. Reputed as the best used vehicles available, certified preowned vehicles have passed a thorough, multi-point inspection prior to being listed for sale and offer an undeniable set of advantages that average used vehicles can't match. Most notably, CPO vehicles come at a lower price than their new-vehicle counterparts while still providing a comparable combination of modern amenities and proven reliability.
Beyond taking measures to ensure a vehicle's sound functionality to instill peace of mind in drivers, CPO programs also typically come with supplemental benefits that make them even more desirable. These might include a factory extended warranty, scheduled maintenance, roadside assistance or a free rental car while your car is being repaired.
The INFINITI Certified Pre-Owned (CPO) Program sets a standard for pre-owned vehicles by offering exceptional value and trusted dependability through its superior mechanical protection and service. Here's an overview of the INFINITI CPO Program inclusions:
A rigorous 167-point inspection
A factory-backed warranty with up to six years unlimited mileage
Over 1,300 components covered
Complimentary first-year basic maintenance
CARFAX® Vehicle History Report™ with a 3-year Buyback Guarantee™
Free 3-month trial subscription to SiriusXM® Satellite Radio
Emergency roadside assistance and trip interruption reimbursement
Complimentary towing to the nearest INFINITI retailer (up to 250 miles)
Complimentary INFINITI service courtesy vehicle (or maximum reimbursement of $250)
No deductible for warranty repairs
Available INFINITI Elite™ Extended Protection Program
Transferrable benefits to subsequent owner (private party sale only)
You can find more information about the added benefits at INFINITI's CPO website. For now, we're going to take a closer look at the program's two major components: the 167-point inspection and warranty.
The Rigorous 167-Point Inspection
In order to be eligible for consideration within INFINITI's Certified Pre-Owned Program, an INFINITI vehicle must have mileage under 70,000, a clean title history, a clean CARFAX® Vehicle History Report™, show a regular history of maintenance, be fewer than six years from its original in-service date, and sold by an authorized INFINITI retailer. Those that qualify then undergo a comprehensive, 167-point inspection by a specially trained technician to ensure proper functionality and long-term dependability for features both inside and out. Here are the major areas it covers:
VIN/Service Bulletins/Recalls/Diagnostic Trouble Codes/Maintenance
Powertrain/Chassis
Body Frame
Road Test
Interior
Body Exterior
Check out the INFINITI CPO inspection checklist to learn more about these major categories and the 167 components that undergo testing.
Extensive Warranty Coverage
INFINITI's CPO program provides qualifying pre-owned INFINITI vehicles with a factory-backed limited warranty for up to six years. The warranty is based on the vehicle's age and mileage. INFINITI CPO vehicles within their new vehicle warranty period come protected by either a six-year, 75,000-mile limited warranty or a six-year, unlimited mileage limited warranty from the vehicle's original in-service date. Available extended coverage can bump the length up to eight years from the original in-service date. Vehicles outside the new vehicle warranty period come protected with a two-year, unlimitedmileage limited warranty from the CPO purchase date. The limited warranty covers all major components, including the powertrain, and offers an unlimited number of claims on covered parts.
Should you need any repairs, more than 200 INFINITI retailers across the nation can assist you and provide the Infiniti Total Ownership Experience®, INFINITI's philosophy and commitment to deliver service to your satisfaction. This means that all authorized INFINITI retailers will service your vehicle using only genuine INFINITI parts or parts approved by trained INFINITI technicians.
Learn more about the warranty coverage by reading the INFINITI Certified Warranty Booklet.
Find an INFINITI CPO Vehicle Today
With exclusive requirements to join INFINITI's Certified Pre-Owned Program, INFINITI CPO vehicles are the key to a worry-free, luxury driving experience at a competitive price. Find a certified pre-owned INFINITI near you today.